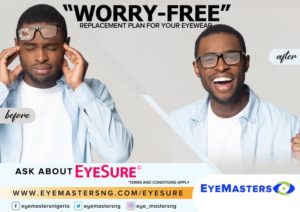 We would love to take your headaches away.
Become worry-free now by getting a glasses replacement plan for your eyewear with Eyemasters EYESURE.
ABOUT EYESURE.
EYESURE is a glasses repair or replacement plan in which you make an upfront payment of 10% of your glasses price to insure the glasses against damages like broken hinges, scratched lenses, broken frame e.t.c.
HOW IT WORKS.
EYESURE takes your worry away by allowing you to make a one-time payment of 10% of your eyewear, frame, or lens price for a one year cover on damages such as; scratches, broken hinges, broken lens, broken frame, etc.
Single EYESURE subscription is valid for one year only and cannot be transferred or used for another person.
You may pay to insure your glasses for more years than one simply by paying multiple of what you would for one year.
No questions asked as soon as you are verified you get your repair if the eyewear is repairable or replacement if the eyewear is not.
EYESURE only covers damages to your eyewear, so lost of stolen glasses are not covered.
Third-party(i.e Glasses not gotten from Eyemasters) glasses can also be insured but more verification steps are required.
HOW TO SIGNUP.
Visit any of our branches listed Here and ask about EYESURE after getting your eyeglasses or Call/SMS/WhatsApp Ijeoma on 08147201169.
Alternatively, you can subscribe online if you got your glasses from Eyemasters using the information below.
You can subscribe to EYESURE now by filling out the information below.
Note: For customers who purchased glasses from Eyemasters only.
More Services
Fitting of contact lenses, contact lens examinations, patients' contact lens to suite patients wants

The purpose of glaucoma screening test is to detect those with early stage disease and be treated
These screenings help to estimate the degree of error in ones eyes and a need for a complete eye examination.

Our primary Eye care services remain the core in optometry services. To provide best treatment approach on eye care problem or defect.